From upstream to downstream, all areas of expertise forming part of the value chain of construction lead to the most beautiful place on earth: the construction site. This is why health and safety for all and zero accidents constitute our very highest priorities. But we think about more that just our sites; we also concentrate on the regions in which we operate. We are more committed to them than ever, contributing to their economic vitality.
From Hong Kong to the United Kingdom, from Switzerland to Singapore, from Morocco to Australia, the Group has deepened its multi-local roots and strengthened its multi-cultural teams. The pooling of resources and a culture of sharing and of removing barriers take on more importance than ever.
Throughout the world, as the men and women of the Group, we are all Bouygues Construction. We are committed to innovation in all of our projects and creating ever greater value for our customers. But also driven by the single ambition of aiming for excellence by being the best at meeting the challenges that now redefine the act of building, such as eco-design, BIM, sustainable city, connected infrastructure and homes, and energy efficiency.
What guides us? Our ethics, and the respect we show in the field, day after day, to all our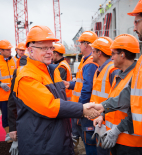 Philippe Bonnave, chairman and CEO of Bouygues Construction: "I have wanted to emphasise the basics that are essential for us to achieve our ambition. This means, for example, a desire to place the customer at the heart of the company, as well as establishing the pre-eminent nature of the construction site as the place where all our areas of expertise converge and where we deliver our promise to our customers. It also means the priority we give to safety, to an insistence on exemplary behaviour in questions of ethics, and to a greater openness between our businesses in our operations. But there is also sustainable construction, open innovation, digital modeling (BIM), etc."