Yhnova, a house printed in 3D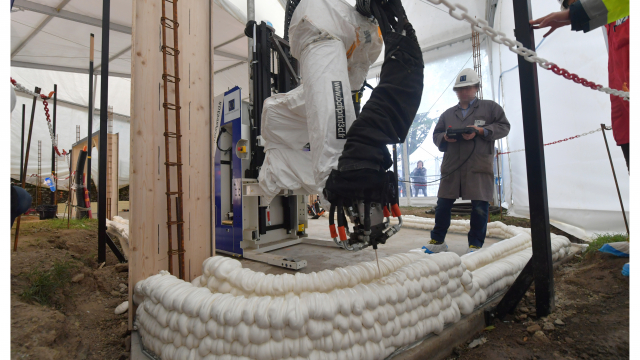 Bouygues Entreprises France Europe has produced the first, in partnership with the University of Nantes.
An original concept, BatiPrint3D™ is the result of multidisciplinary studies conducted by researchers from the Laboratory of Digital Sciences of Nantes and the Institute of Research for Civil and Mechanical Engineering. This technology made it possible to deliver a 95 m² social housing unit in record time.
In technical terms, the arm of a polyarticulated industrial robot deposited three layers of material: two layers of expansive foam serving as formwork for a third layer of concrete. The robotic arm is guided directly around the slab by a laser sensor, using the digital mock-up of the house.
Yhnova is the first in a long series. Its distinguishing feature lies in its complex architectural shape, with curved walls and rounded angles.