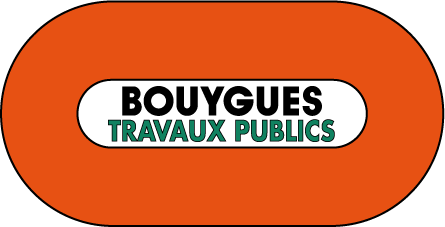 Bouygues Travaux Publics is an expert in complex projects involving tunnels, engineering structures and road, port and rail infrastructures. Operating in France and many other countries, the entity has acknowledged expertise in managing large-scale projects with high added value and in setting up PPP projects.
Grand Paris Express, Ligne 15

©Y. Chanoît

Travaux d'extension du Port de Calais

©A. Février

Tunnel du métro de Melbourne

©Adobe Stock

Viaduc du Littoral

©Bouygues Travaux Publics

©BW Ideol & Valery Joncheray

Raymond Barre Bridge, France

©DR

The Chernobyl sarcophagus, Ukraine

©L. Zylbermann

Nîmes-Montpellier rail bypass, France

©DR

Tanger Med port, Marocco

©Y. Chanoit

Gautrain railway line, Johannesburg to Pretoria

©K. Wright

The New Tyne Crossing tunnel, Newcastle, England

©DR

The Grésillons purification plant, Yvelines, France

©Ph. Guignard

Masan Bay bridge, South Korea

©L. Zylbermann

The MTR Island metro line, Hong Kong

©P. Leung
This div is outside of the slider
|
Bouygues Travaux Publics focuses its development on technically demanding operations with high added value, such as the Hong Kong–Zhuhai–Macao Bridge, the Port of Miami Tunnel and the Nîmes-Montpellier rail bypass.
To carry out these major operations, Bouygues Travaux Publics draws on the resources of its permanent offices in France, Switzerland, Hong Kong and Australia and its capacity to become involved on a one-off basis on highly technical projects.
Recognized expertise in nuclear
With its subsidiary Bouygues Construction Expertises Nucléaires, the company offers an integrated, innovative and high added value offering, based on a set of solutions, covering all technical fields as well as the full life cycle of nuclear infrastructures: engineering, civil engineering, ventilation, electricity, control, piping, maintenance, dismantling, waste management, radiation protection, vitrification and robotics. Bouygues Travaux Publics is also piloting several very large-scale projects in France and abroad, such as the construction of the Hinkley Point C nuclear power plant in the United Kingdom.