The Concessions division manages and operates the concession companies in which Bouygues Construction has an interest. The entity is involved in managing a wide variety of infrastructures used for transport and entertainment in France and a number of other countries.
Built and operated by the Group, the Rostock tunnel in Germany is unusual in that it is an underwater structure.

©V.Paul

The Group has operated the 4 container terminals in the new Busan port in South Korea for 30 years.

©L. Zylbermann

Thanks to the A41 motorway, constructed with Colas, the Annecy-Geneva trip only takes 30 minutes.

©V.Paul

The tramway line linking the northern and southern parts of Reims satisfies ¾ of its residents.

©L. Zylbermann

Jamaica's Highway 2000: 85 km constructed in a 10-year period and 35 years of operations.

©Y. Chanoit

An exceptional structure, the Stade de France has become THE gold standard for sport and shows.

©A. Da Silva

Operated and maintained for 32 years, the Istria Y motorway plays an important role in Croatia.

©D. Cocatrix

With the Gautrain railway line, the journey from Johannesburg to Pretoria takes 38 minutes.

©D. Wright
This div is outside of the slider
|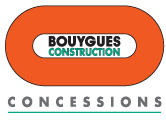 With such projects in its portfolio as the Rostock tunnel in Germany, the Stade de France in Paris, and the Istria motorway in Croatia, the Concessions division operates in nine countries and is involved in managing a variety of infrastructure projects that facilitate the transportation of goods and people or provide amenities for leisure activities, such as stadiums.
Benefiting from the Bouygues Group's more than twenty years of experience of concessions and PPP operations, the Concessions division provides owners and industrial and financial partners with expertise in mounting complex operations. Thanks to its capacity for factoring in and modelling proposed constraints and hypotheses, the division holds an acknowledged position of leadership.
The Concessions division also contributes s-know-how to the start-up of new projects to be operated as concessions. This makes it possible for the Group to deliver a range of technical skills in design, finance and legal services. To guarantee users of the best level of service over the long term, the division plays a key part in maintaining the high level of the buildings and structures it manages.
References on every continent
The development of the Concessions division forms part of Bouygues Construction's commercial strategy, which seeks to provide its customers with a complete offer that combines the financing, design, construction and operation of buildings and structures. In addition to its expertise in managing major transport infrastructures such as Highway 2000 in Jamaica and the Tyne Tunnel in Newcastle, United Kingdom, it also boasts diversified know-how in the area of sports and entertainment facilities as well as in the concession of airport zones, like the Busan container terminal in South Korea.