BYSprong
turning energy-inefficient structures into energy-positive buildings
Bouygues Construction's R&D programme, BYSprong, is developing innovative solutions to mass-market energy retrofitting, by increasing the quality and quantity of building renovations. These solutions aim to provide qualitative answers by turning energy-intensive buildings into energy-positive ones, and quantitive answers by reducing costs thanks to standardisation.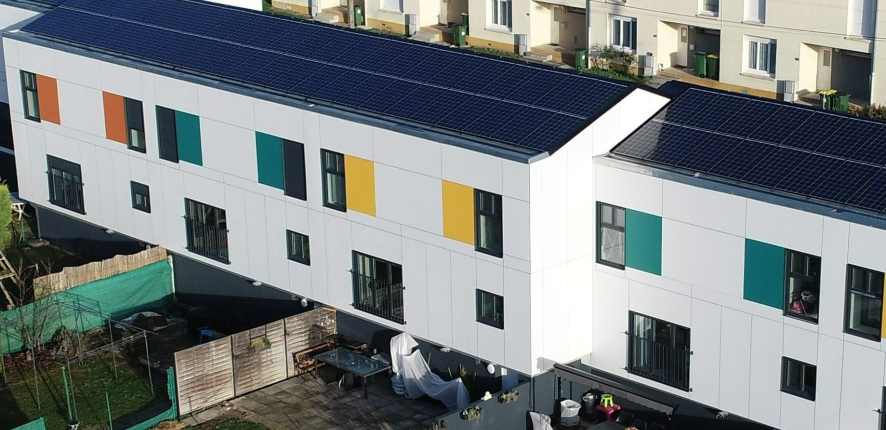 In response to the climate emergency, public authorities would like to speed up energy retrofitting, namely in the building industry, which is the main source of greenhouse gas emissions in Europe (40%). EnergieSprong is an answer to this pressing need. This ambitious concept which got its start in the Netherlands aims to roll out large-scale zero energy retrofits (E=0) making the building energy autonomous. The goal is to make the retrofitted building produce as much energy as it consumes. This process first targets social housing, then educational and service buildings, and finally private housing.
Bouygues Construction has taken up this challenge, drawing on all of its experts through the BYSprong operational R&D programme. Its purpose is to develop the best technical and affordable solutions for large-scale energy retrofitting of homes, ensuring sustainable energy performance while lowering manufacturing costs. These solutions are designed to be tailor-made and scalable.
What does this actually mean? By actively monitoring market innovations, drawing on in-house expertise and challenging existing regeneration processes within the group, Bouygues Construction has been able to develop solutions that are in line with all current technological advances.
A BYSprong retrofit consists of five steps:
Computerised studies (using specially developed software),
A low-carbon prefabricated insulating shell, using local ecosystem partners,
An all-in-one energy module to manage and optimise consumption,
Local and renewable means of energy production integrated into the building,
Follow-up, to monitor consumption and improve maintenance.
A concrete example near Amiens
The first BYSprong project involved twelve houses from the 1960s, which were not lived in during renovation and which were retrofitted to make them energy self-sufficient.
The project – which covered the design, construction, operation and maintenance phases – was carried out by teams from Bouygues Bâtiment Grand Ouest and our partner Dalkia (EDF Group) for the maintenance part.
The original cladding was digitally recreated so that new 40 cm thick cladding could be manufactured in the factory. This new cladding was then applied to the houses to insulate them. Thanks to them, these homes now have a level A Energy Performance Diagnosis (DPE), as opposed to D or E before retrofitting.
Energy systems were installed in a module outside houses, and are shared between clusters of three dwellings. The annual production of electricity by the photovoltaic collectors on the roof is estimated at 7,000 kWh per unit, covering residents' electricity consumption.
The energy savings made it possible to finance part of the work, and disruption to tenants was limited thanks to reduced response times.
Since delivery in 2018, the project's energy production has far exceeded its consumption.
Key figures
of guaranteed efficiency.
kWh /per dwelling. This is the annual production of electricity by the photovoltaic collectors.