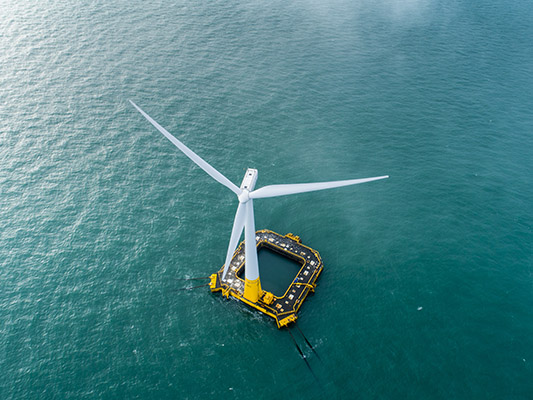 ©BW Ideol & Valery Joncheray
Floatgen is the first 100% European floating wind turbine, built and assembled in the port of Saint-Nazaire. Powerful of 2 MW, once the wind turbine starts working, it will produce the equivalent of the annual power consumption of 5,000 people.
This innovation in the renewable energy field is the result of cutting-edge work by Bouygues Travaux Publics and seven other European partners.
The major innovation is the floating foundation built to hold the wind turbine. The Bouygues Construction subsidiary developed a light, self-compacting concrete formula to reduce the weight of the structure as much as possible. This know-how confirms its expertise in terms of building port and maritime infrastructure.
The potential of offshore floating wind farms is immense as it enables electricity of renewable origin to be produced far from the coastline, with a reduced impact on the landscape and at a better price, thanks to the quality of the offshore wind. Bouygues Construction's expertise in terms of maritime civil engineering is a vital asset in supporting the energy transition.
floating wind turbine built in France