Air Liquide, Bouygues Construction, CEA and SUEZ
develop the first online equipment to improve the safety of their operatives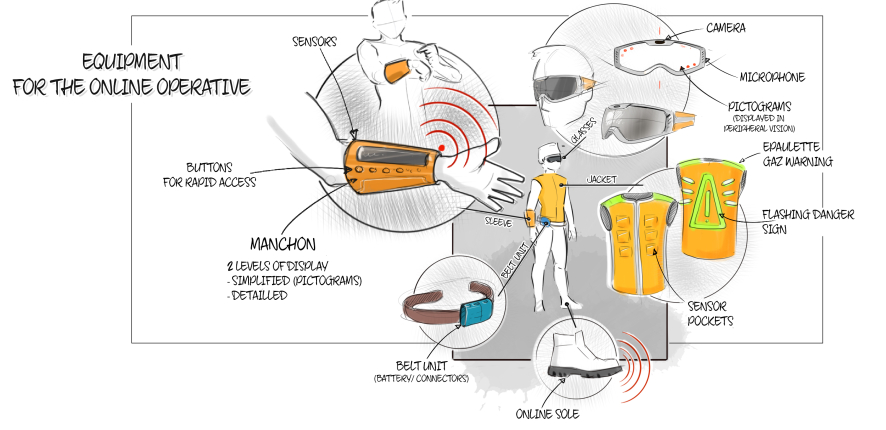 Air Liquide, Bouygues Construction, CEA and SUEZ, partners in Ideas Laboratory®, a shared innovation laboratory based in Grenoble, France, have designed a collection of online equipment designed to improve the safety of operatives in the field and the ergonomics of their working environment.
After two years of joint studies, the "online operative" project has come to fruition with the launch of the first online sleeve. This is a portable terminal worn on the forearm and compatible with wearing gloves. It complements the range of personal protective equipment (PPE) used by operatives, adding the dimension of new online uses. It is interactive, and will allow employees to be guided, informed and given help in real time when they are working in the field. They also benefit from an innovative system for communicating, collaborating and optimising their efficiency while keeping their hands free, no matter what the weather conditions.
The sleeve will improve the working conditions for operatives in the field working in each partner's specific line of business: on building sites for Bouygues Construction, at gas production and processing sites for Air Liquide, and collecting, sorting and recovering waste for SUEZ. It has already enjoyed a successful pilot phase, and it will be progressively rolled out in several French regions for use by each partner's employees.
Other modular digital tools have also been designed by the project partners to further equip the "online operative". They can be adapted according to the requirements of each partner's business:
a high-vis jacket equipped with sensors able to analyse the air,
glasses with an integrated camera,
safety boots allowing geolocation.
To design all this new equipment, the partners have worked collaboratively and capitalized on their knowledge and expertise in their sectors of industry. They have also taken advantage of recent advances in connected objects and in cobotic technologies. The project forms a direct part of initiatives to promote safety and to modernise career profiles carried out by the various partners.