CentraleSupélec: signature of a partnership contract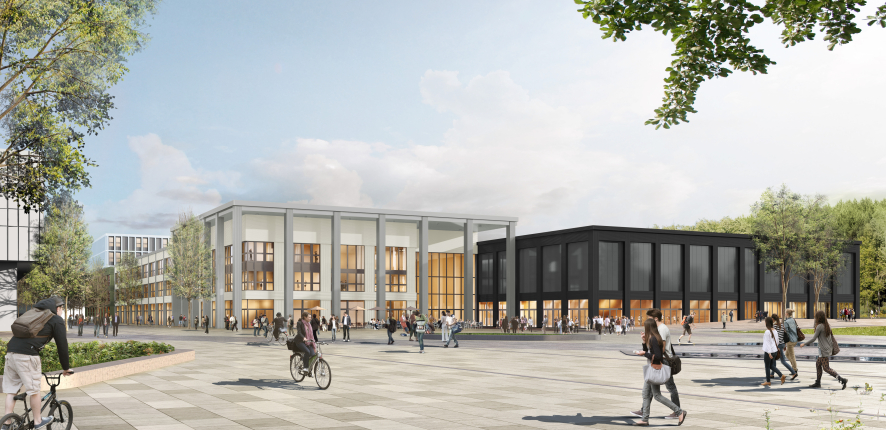 As part of the project for its future Paris-Saclay campus, CentraleSupélec yesterday signed a partnership contract with the company Kluster for the construction of a new building at Gif-sur-Yvette.
The signatory consortium is made up of Bouygues Bâtiment Ile-de-France (lead company) and Bouygues Energies & Services, both of them subsidiaries of Bouygues Construction, as well as FIN Partner I and HICL Infrastructure Company Ltd, advised by the investment management company, InfraRed Capital Partners Ltd.
The contract, which will run for a period of 26 years, covers the construction and maintenance of a property complex of approximately 25,000 m², primarily intended to house the School's teaching and research activities (research laboratories, teaching and training facilities, common spaces, etc.). It will also house facilities shared at the level of the Moulon university district (gymnasiums and sports halls, teaching rooms, etc.). In addition, it provides opportunities for the rental of facilities to partners, which will make it possible to strengthen links with business.
The architectural project by the Zurich-based architects Gigon/Guyer meets CentraleSupélec's requirements is a convincing and ambitious manner. Balanced yet innovative, the design fits perfectly into the dynamic of the future campus and complements both existing and planned buildings.
The most characteristic aspects of the proposal that attracted CentraleSupélec's attention following a year-long competitive dialogue included the following:
The architectural concept, constructed around a generously sized entrance hall with artificial topography that creates a series of very interesting work, project and teaching spaces;

The quality of the exterior envelope, which is original, sustainable and particularly distinctive;

The provision of space available for rental (the "Innocity" offer) and its inclusion in the project, which helps to make this development symbolically opened to the world and enriches the School's activities by the enormous potential this will allow;

The competitive nature of the financial offer and the sound legal footing of the proposal.

 
When completed, the future CentraleSupélec campus, in the Joliot-Curie zone of the Paris-Saclay cluster, will consist of three main buildings, linked together by numerous functional relationships:
·  the current CentraleSupélec building on the Gif-sur-Yvette campus, inaugurated in 1974;
·  the "LabCity" building, planned as a public building and designed by Rem Koolhaas and Ellen van Loon of the OMA partnership, on which work has recently begun;
·  and the building that is the object of the present partnership contract.
Media resources

© Annette Gigon & Mike Guyer Dipl. Architekten - Architron
Download the HD file
[5.67 MB]
Press contacts
Mathieu Carré
+33 (0)1 30 60 66 39
Jessica Swiderski
+33 (0)1 30 60 25 37