Eikenøtt
The first eco-neighbourhood in French-speaking Switzerland
Located near the town of Gland and named Eikenøtt (which is Norwegian for "acorn"… the literal meaning of "gland" in French), this island of greenery built by Losinger Marazzi brings a Scandinavian-inspired lifestyle to the banks of Lake Leman. It seeks to combine ecological responsibility and energy efficiency while providing an unrivalled quality of life.
Sandrine Maret,
inhabitant of the eco-neighbourhood
"With my head full of dreams, I was looking for a good quality apartment, where ecology and respect for the environment really matter, in a different kind of neighbourhood. My partner and I sold one of our cars and decided to reconsider our concept of travelling. The idea of a neighbourhood without cars seemed original and very pleasant! Our apartment is light and encourages an eco-friendly lifestyle. It meets our expectations perfectly."
A Northern European concept, eco-neighbourhoods are synonymous with the latest thinking and benchmark practices with regard to environmentalism, design and a form of community living. The first of its kind in French-speaking Switzerland, Eikenøtt is no exception to the rule. Laid out on eight hectares of land in a highly urbanised zone, it combines urban densification, environmental quality and sociability. It consists of ten five-storey buildings surrounded by a continuous "green carpet".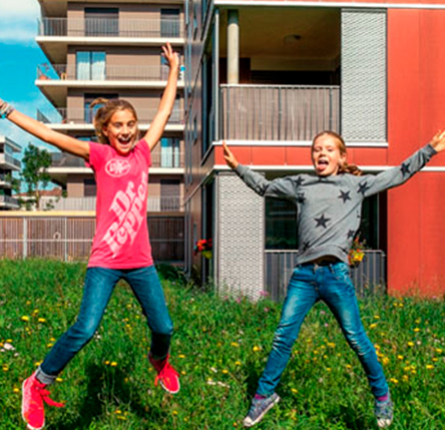 The development features numerous innovations in terms of environmental performance and energy efficiency, soft mobility and communal amenities. Each building has been developed like a crown. The central core of circulation is surrounded by a rosette of services proper to each apartment. The interior living space looks out to the exterior and features continuous balconies, for greater luminosity and proximity with the surrounding greenery. Rainwater is recovered by green roofs. Another innovation: thanks to a shared 600-space car park just outside its boundaries, the neighbourhood is able to restrict the use of cars. Cycling is encouraged, with 800 covered parking spaces available for bikes.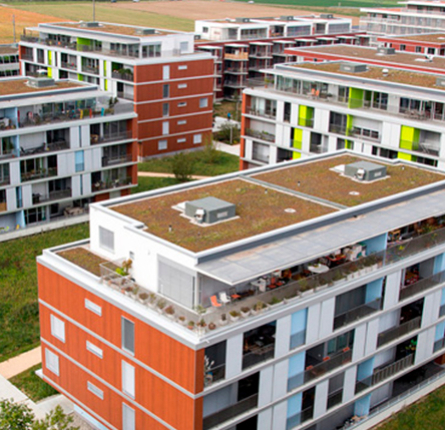 Amenities provided in the collective areas, and even inside apartments, encourage eco-gestures, including waste-sorting facilities in the kitchen, water-saving mixer taps, electric vehicle charging stations, a car-pooling system, etc. Tactile tablets in each apartment enable residents to monitor their energy consumption and obtain advice for optimising it.
All the Eikenøtt buildings have been awarded the Minergie-Eco label, which prescribes standards relating to materials employed and to energy efficiency levels achieved, as well as numerous rules applicable during the construction process to reduce the environmental impact of the site. To meet these requirements, each building's external walls have 26 cm of insulation, double glazing and dual-flow ventilation. To provide low-temperature floor heating, the remote heating plant is 83% fuelled with wood produced in the town of Gland itself. The hot water required by the eco-neighbourhood is produced by 1,000 m² of photovoltaic panels installed on the roof of the car park.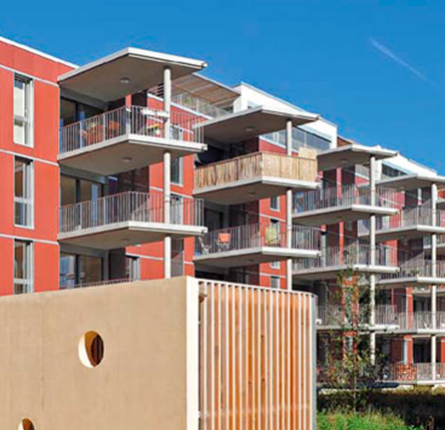 In Short
of lands is taken up by the new-generation neighbourhood
of the neighbourhood's energy needs will be filled by boilers using wood chips