The French Ministry of Defence
France's version of the Pentagon
The Balard Hexagon, which features a roof evoking the wings of a stealth bomber, extends over a 420,000 m² site. The contract for the new ministry was awarded in 2011 to a consortium of construction companies headed by Bouygues Construction. The complex will be home to all branches of the French Military.

Jean-Yves Le Drian,
French Minister of Defence
"The public-private partnership contract is a model for controlling public expenditure and modernising equipment. All the players will find themselves together on the same site, which will be a great incentive to working together."
The Balard project was proposed in the context of a reorganisation of the Ministry of Defence. It is intended to make the ministry more efficient by bringing together on a single site the ministerial offices, the military high command and the staffs of the three armed forces, as well as most of the directorates of the central administration. In 2011, the French Government awarded the public-private partnership contract for financing, designing and constructing the ministry and operating and maintaining the complex for thirty years to the Opale-Défense consortium, led by Bouygues Bâtiment Ile-de-France and with Bouygues Energies & Services a prominent member.
The site combines numerous innovations: its wide photovoltaic roof of over 4,000 m² produces 10kWhep/m²/year, 90% of the annual need for cold will be met by heat exchanges with the water table, while 80% of needs for heating, air-conditioning and hot water will be supplied passively thanks to a sophisticated production system. With a commitment level complying to the Paris Climate Plan, Balard is also the largest energy performance contract in France.
Designed by architect Nicolas Michelin and l'Atelier 2/3/4/, the Balard Defence Ministry project is colossal. On the 16.5-hectare site alongside the Boulevard Périphérique, three construction projects have been run in parallel, two for the ministry and the third for an accompanying property programme immobilier. To meet the stringent construction standards imposed on buildings used by the armed services, teams employed civil engineering techniques to design extremely resistant structures, incorporating two to three times more steel reinforcements than conventional buildings.
In all, more than 13,000 people worked on this monumental project. The two firms of architects responsible for designing the new and renovated buildings worked closely together to ensure the overall architectural coherence of the project. The same degree of coordination is also to be found among the various onsite operators, who include Thales Communications & Security, Dalkia and Sodexo. More than just a building, a complete turnkey system has been delivered to the Ministry.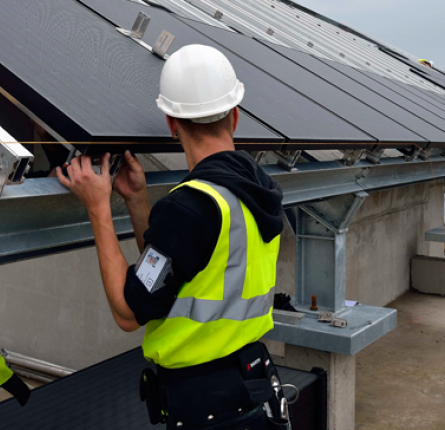 The Balard complex has been designed as a high environmental-performance ecosystem: its energy needs (heating, ventilation, hot water, etc.) have been halved by comparison with a typical passive building, while its energy consumption has been divided in three to achieve the HQE level for new buildings.
In Short
construction workers on-site at peak periods
ministry officers reunited on a single site