The Kai Tak cruise terminal building
An international showcase
Opened in 2013, Kai Tak is one of the world's most modern cruise terminals, designed to keep pace with the future needs of large cruise ships. This exceptional facility was built by Bouygues Bâtiment International on the former runway of Hong Kong airport.

The Kai Tak cruise terminal building is extraordinary in more than one respect. First of all, there is its capacity. A gigantic quadrilateral built on the site of Hong Kong's former airport, Kai Tak can berth two 360 metre-long super-liners simultaneously, each with some 4,000 passengers and 2,000 crew-members on board. It is extremely functional, and is capable of disembarking 3,000 passengers per hour. 
Technical innovations also contribute to the extraordinary nature of this building. Its structure consists of three connecting decks that stand without columns, a technical feat made possible by 42-metre spans. The flexibility that this allows means that the spaces are highly modular and can serve a wide variety of uses throughout the year, including during quiet periods for cruise traffic. The 56 metre-wide waiting zone with huge triangular windows can be converted into event space and divided up into several exhibition and performance spaces. 
With the Kai Tak terminal, Hong Kong has acquired an infrastructure that matches its attractiveness for tourists: the megalopolis attracts more than 50 million visitors per year. The facility matches the scale of Hong Kong's ambitions as a regional hub for very large cruise ships. The "Pearl of the Orient" can now take full advantage of its strategic position in the South China Sea and the remarkable potential of South-East Asia and Australia with respect to luxury cruise liners.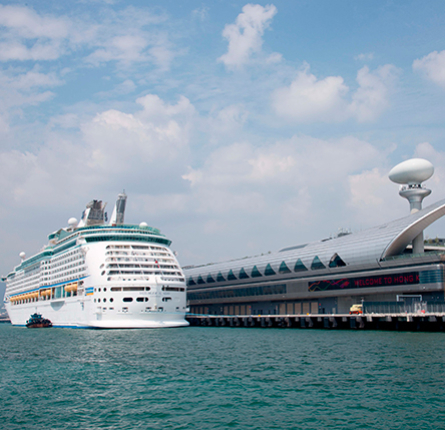 The terminal is a very high environmental quality site. Designed to minimise energy consumption, it also produces renewable energy. It is equipped with a rainwater and condensation recovery system used to cool and to irrigate the building. To help reduce electricity consumption, the use of natural light has been optimised. With a total of 4 hectares of green surfaces, the Kai Tak cruise terminal building has the largest green roof in Hong Kong. There is also a 23,000 m² public garden.
The Kai Tak cruise terminal building was designed by the London architects, Foster + Partners. Technical design and construction, along with that of the ancillary buildings, was directed by our subsidiary, Dragages Hong Kong, which has been operating locally since 1955. The site is now operated by the Worldwide Cruise Terminals Consortium.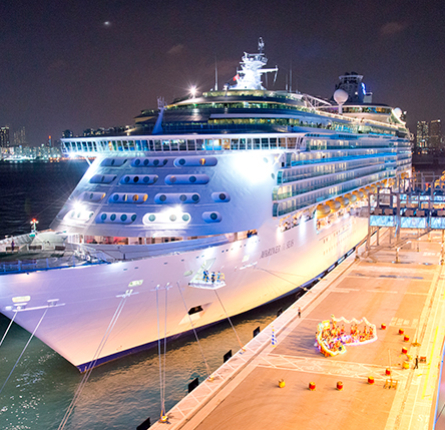 In Short
passengers can be handled simultaneously