La Seine Musicale
an architectural gem At the heart of Seguin Island
Bouygues Bâtiment Ile-de-France has breathed new life into the island, which was once home to the old Renault factory, by building La Seine Musicale, a new cultural touchpoint in western Paris.

Marie-Pierre CIMINELLI
Bouygues Bâtiment Ile-de-France Environmental Performance Manager
Even the construction of a building like this one is innovative. The facilities include a large number of music rooms placed right next to each other and a glass ball set within in a wooden frame that we had to size and study in order to create. All this is topped with a mobile photovoltaic cover—that's a lot of firsts.
Shigeru Ban, a Japanese architect, joined forces with Jean de Gastines to design this newest cultural icon in Hauts-de-Seine.
The building's shape recalls an ocean liner, and its curved lines merge with the rear tip of Seguin Island. The auditorium is suspended over the water and made up of a timber frame encased within a glass outer layer. It is made even more beautiful with the addition of a solar cover of more than 1,000 square metres of photovoltaic panels that rotate to track the sun. This unique work of art combines modern design with an environmentally-friendly approach.
La Seine Musicale was created to make culture accessible to as many people as possible. With this goal in mind, it was designed to serve as an intergenerational hotspot for wealth, exchange, and education as well as a wide range of activities.The building extends for 324 metres along the Seine River and covers 36,500 square metres. It includes two concert halls. La Grande Seine, which seats up to 6,000 people, is equipped to host concerts, ballets, major theatre productions, and company events. The Auditorium, which seats up to 1,150 people, is designed for acoustic musical performances. In addition to the arts-related infrastructure, adjacent amenities include shops and restaurants. La Seine Musicale also features a number of private rooms for hosting company events or public exhibits.
By installing the solar cover on La Seine Musicale, the teams from Bouygues Bâtiment Ile-de-France successfully took on an impressive technical challenge unlike any other in the world. On top of the 45-metre, 200-tonne building, 1,000 square metres of photovoltaic panels rotate 0.08 metres per second (5 metres per minute) around a 90-metre rail surrounding the wooden Auditorium. By following the course of the sun, the panels optimise their energy production. Environment 
While the architects point to the solar cover lined with photovoltaic panels as the ultimate symbol of environmentally-friendly design in the 21st century, the entire building as a whole exists in symbiosis with its environment, especially with respect to its green roof.  The project's environmental commitments, which have been present since the very beginning, have been awarded several labels, including the Urban Biodiversity label. In addition, the complex was presented with the Sustainable Building HQE certification for its optimal air quality and use of premium materials.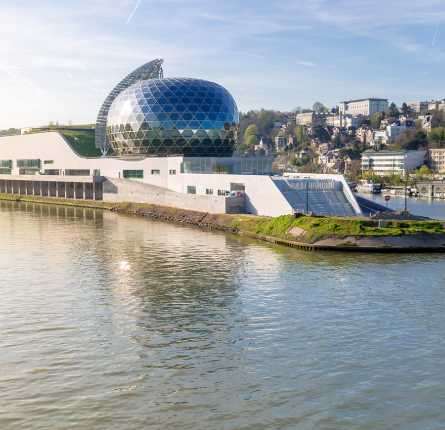 In Short
of photovoltaic panels on the primary cover