MahaNakhon
The tallest tower in Bangkok
Built by Bouygues Bâtiment International and designed by the architect Ole Scheeren, this multi-purpose tower situated in Bangkok's Silom business district was inaugurated in 2016.
Jean-Marie Verbrugghe,
CEO of Bouygues-Thai
"It was the first time we ever dealt with such a structurally complex building. We took a pragmatic approach regarding architectural and scheduling constraints".

Bouygues Bâtiment International turned the dream of architect Ole Scheeren into reality by creating the structure and the facade of the MahaNakhon Tower. The 77-storey multi-purpose tower, 314 m tall, houses 194 high-end apartments, a 150-room luxury hotel and a shopping centre that extends to an adjoining structure. Located in Bangkok's Silom business district, it is the tallest skyscraper ever built by Bouygues Construction.
The MahaNakhon Tower is a unique structure, made distinctive by the 3D pixel ribbon that envelopes it, composed of steel blocks that appear and disappear over several consecutive levels. 30% of the building's slabs overhang without direct support. It was truly a feat to ensure that every storey was different!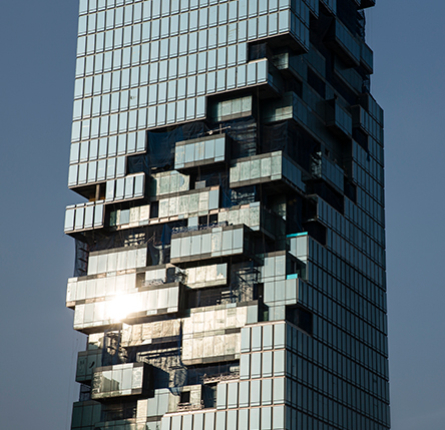 Each storey required extremely specific method and formwork plans. Bouygues Thai and its partner, VSL, were able to overcome numerous technical challenges using digital modelling (and automatic interference detection). 130 sixty-five-metre-deep supporting wall units were built to prevent creep (concrete damaged by continuous strain). Teams from Bouygues Construction subsidiary VSL came to share their expertise in post-tension techniques for some of the columns using tension cables, which they use regularly for building bridges, for example.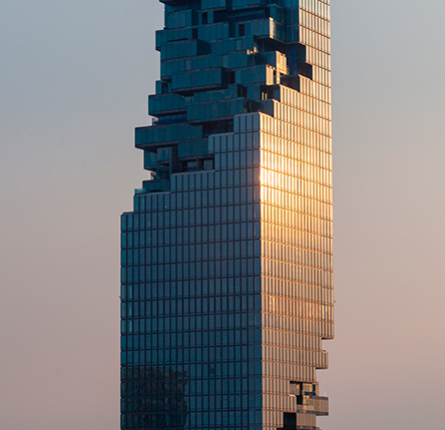 Beyond the project, Bouygues Construction has taken action in favour of the local population through its Terre Plurielle foundation, which supports the Ban Nam Khem school, located on Thailand's east coast. The school gives pupils in the region, which was severely affected by the 2004 tsunami, the opportunity to learn French, which could boost their chances of finding employment in tourism.
In Short
tonnes. A building that weighs.