The Trade and Industry Tower
A green tower in Hong Kong
Bouygues Bâtiment  International handed over the Trade and Industry Tower in 2015, after 33 months of works. Located in a district that is fast becoming a "Green City", the 22-storey building has qualified for all the top environmental certifications available on the market.
Located in the northern part of Kai Tak, a district that is set to become an international showcase for green urban planning, the 22-storey Trade and Industry Tower houses offices of Hong Kong's government and several administrations. This building was constructed over 33 months by teams at Dragages Hong Kong, a subsidiary of Bouygues Bâtiment International.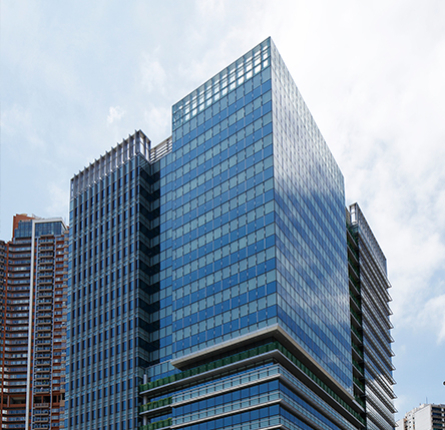 Incorporating a wealth of green innovations, the Trade and Industry Tower makes great use of renewable energy to achieve self-sufficiency: a photovoltaic power system, solar water heating, rainwater recovery, natural management of lighting by the use of fibre optic, and air conditioning using the local cooling network. Materials with minimal environmental impact and the development of wall gardens and green spaces that cover 30% of the building surface are also features of this ultra-modern building. 
Landscaping is a crucial part of the project. The ground floor, roof and suspended walkway are decorated with plants. A part of the building's facade are also covered in greenery. There is no on-site cold water production system for the air-conditioning; instead, it is supplied by a central cooling facility that serves the entire district, enabling energy savings of roughly 20%. In recognition of its achievements, Dragages Hong Kong was awarded a trophy for the Highest Standard of Sustainability by the Hong Kong government.
The Trade and Industry Tower embodies environmental excellence. Everything contributed to enabling this ultra-modern building to qualify for double certification – LEED Platinum, the North American standards system for high environmental quality buildings, and BEAM Platinum, the environmental label awarded by the Hong Kong authorities. The criteria on which it was assessed included energy and heating efficiency, low water consumption, use of locally procured construction materials, and the reuse of surplus materials.
In Short
surface covered with wall gardens and green spaces