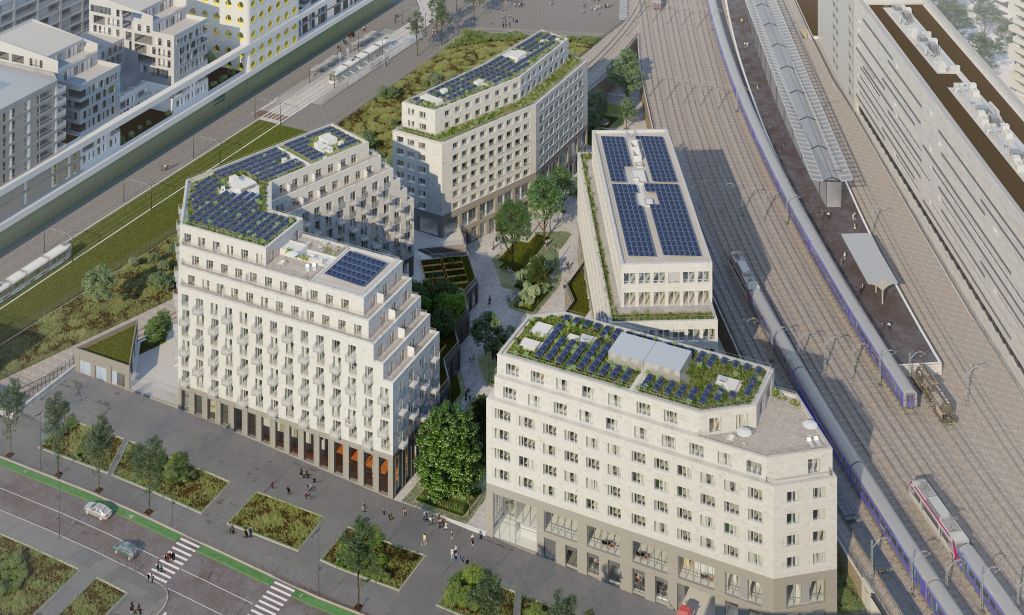 Ilot fertile © Agence d'architecte TVK
Ilot fertile © Agence d'architecte TVK
Ilot fertile © Agence d'architecte TVK
Bouygues Construction subsidiaries (Habitat Résidentiel, Construction Privée, Habitat Social, Brézillon, Elan et Linkcity Ile-de-France) are creating the first zero carbon district in operation in Paris. Called Îlot Fertile (Fertile Island), this project, designed by Linkcity in partnership with architectural and planning agency TVK and landscape architect OLM, was nominated in February 2016 as Winner of the call for projects "Réinventer Paris", a call for innovative urban projects launched by the City of Paris.
This new area, located near the Porte d'Aubervilliers, was designed as a large open garden, with 3,800 m² of public garden, private gardens, vegetable gardens…
In developing this project, Linkcity is supporting a strong ambition: to introduce social diversity, but also in practices, so that it can settle and become sustainable in the long term. Îlot Fertile will host open-market, social and intermediary housing, a student residence, another for active youth, a youth hostel, a large sports facility, a hotel, offices, a start-up incubator, a logistics base, a living lab and various local shops.
Ilot Fertile will be the first Zero Carbon district in Paris. Bio-climate design, state-of-the-art equipment, work on renewable energies, no parking... to achieve the zero-carbon goal, both technological and behavioural innovations had to be found. To forge new habits, Linkcity has implemented three major actions:
Engaging partners and investors by subscribing to green electricity contracts and monitoring consumption for 10 years.
Raising awareness among the individuals who will live in the housing, through a 10-year on-site events programme led by the organisation Dédale and supported by partners such as WWF France.
Carrying out biodiversity monitoring for 5 years via an ecological monitoring contract.
On the construction side, the use of solid load-bearing stone was chosen. Thus, almost 10 000 m² of cut stone, mostly from the Île-de-France area, will be used for the façades. The foundations and base of the project will be made of low-carbon concrete, a material designed to achieve a low energy footprint.
zero carbon district in operation in the capital of France