First sustainable modular timber-frame building for the French army!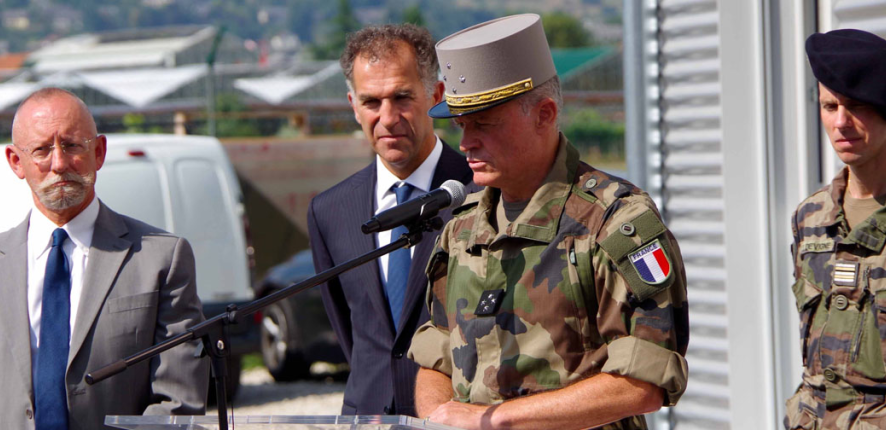 To help remedy the shortage of accommodation caused by an increase in the size of the French army, Bouygues Bâtiment Sud-Est, a subsidiary of Bouygues Construction, and its partner, Ossabois, have launched the construction of sustainable modular timber-frame buildings, called Catalpa. On August 31, 2016, Major-General Bertrand Houïtte de La Chesnais, from the French army, inaugurated the first building of the Catalpa at Barby, near Chambéry, in the presence of the general of the Central Directorate of the Defence Infrastructure Service, the Prefect of Savoie and Pascal Minault, CEO of Bouygues Entreprises France-Europe.
A growing number of soldiers…
Following the French Defence Ministry's decision to expand its land forces, the French army is preparing to recruit 11,000 additional troops. The increase in personnel from 66,000 to 77,000 requires the creation of 33 units along with two new regiments. To meet the challenge on both a quantitative and a qualitative level, the French army has had to adapt its infrastructures very quickly so that its new recruits can be offered the best possible working and living conditions.
Catalpa, a modular timber-frame building project
Bouygues Bâtiment Sud-Est, a subsidiary of Bouygues Construction, has devised a global solution in conjunction with Ossabois, a major partner in this project, well known for the partnership it has developed with the Group. The Catalpa project is based on the construction of timber-frame buildings combining rapid installation and quality of manufacture. Only the exterior and interior finishings are carried out onsite. Designed to last between 35 and 40 years, each building takes only seven months to deliver after an order is placed. 13 Catalpa buildings will be erected this year throughout France, including five in the territory of Bouygues Bâtiment Sud-Est.
Why is it called Catalpa?
Catalpa is a reference to the tree of the same name, which is very fast-growing. The Catalpa concept is designed for rapid construction sites and quick delivery. It also provides good protection / shelter, which is essential for accommodation buildings for members of the armed forces.
This straight, upright tree also connotes the quality of installation and zero-defect construction. What is more, something made from wood, such as our Catalpa building project, means environmental quality and reduced greenhouse gas emissions.
Press contacts
Mathieu Carré
+33 (0)1 30 60 66 39
Jessica Swiderski
+33 (0)1 30 60 25 37