The Reinventing.Paris jury awards the redevelopment of the iconic Eole-Evangile Triangle to Linkcity and its partners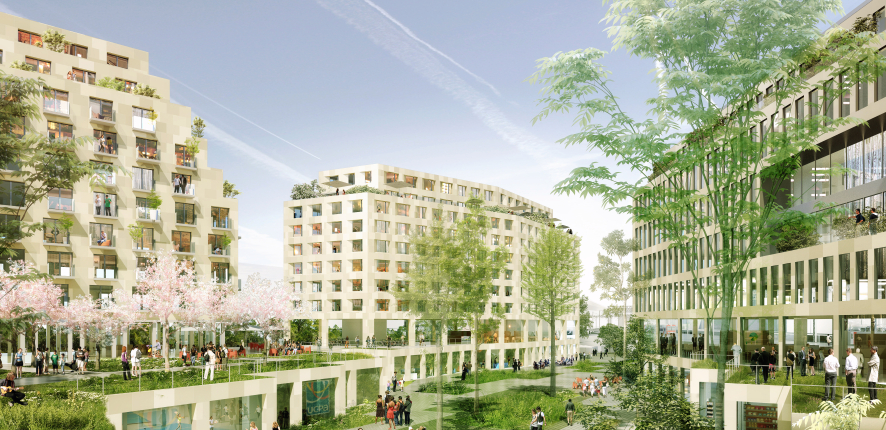 Linkcity Ile-de-France (formerly Sodéarif), the property development subsidiary of Bouygues Bâtiment Ile-de-France, and its partner, the architecture and urban planning practice TVK, have been named as winners of the Eole-Evangile Triangle redevelopment project in north-eastern Paris, the largest of the sites in the Reinventing.Paris competition.
Following a year's work to deliver a bid in response to the call for projects organised by the City of Paris, the international Reinventing.Paris jury has selected an ambitious proposal that combines a high quality lifestyle and environmental standards and will turn the Eole-Evangile Triangle into the French capital's first zero-carbon neighbourhood.
TVK, an architecture and urban planning practice, and the landscape designer OLM have designed the Îlot Fertile ("garden city block") around a vast central garden. The resulting mixed-use development of more than 34,000 m² will help to create an innovative economic and social ecosystem: 
more than 400 new homes, financed by ICF Habitat La Sablière and a private investor:

a student residence with 150 studios managed by ARPEJ;

a residence for 160 young people in work managed by the Parme association;

approximately one hundred family homes (private, social and mixed rentals);

a 5,000 m² indoor sports facility led by UCPA with a 200-bed youth hostel and many sports facilities ;

an apartment/office/hotel concept of 125 lofts developed by Zoku, a Dutch company;

a business incubator dedicated to environmental innovations run by Impulse Partners;

more than 7,300 m² of offices;

a last-mile logistics hub employing the Geodis "Distripolis" concept;

a "green base" for Les Jardins de Gally's landscaped garden maintenance business;

a co-working café space, a new concept developed by Anticafé;

800 m² of local shops.
Linkcity and its partners were the winners out of 28 contestants, thanks to a project built on four key pillars:
Construct an exemplary model for urban development in environmental terms embracing an entire neighbourhood that meets the targets set by the City of Paris for 2050. Unheard of for a project on this scale, the "zero carbon" approach will begin with construction methods using low-carbon concrete and timber, thanks to the innovative procedure developed by Techniwood. The approach, promoted by WWF, will be pursued with the residents and users thanks to the NGO.

Restoring nature to its rightful place thanks to the vast central garden, which provides environmental continuity with the green infrastructure of the old Petite Ceinture railway. All levels, from ground floors to roofs, will be planted. This will take many different forms – fruit trees, shrubbery, vegetable gardens – and will satisfy both ecological and social demands. This garden space has been designed to meet the requirements of the BiodiverCity® label, in conjunction with Les Jardins de Gally and CDC Biodiversité. CDC Biodiversité will act as operator of all outdoor areas. It will commit to a performance level based on indicators.

Offer a truly original development programme for future residents and local users, making Eole-Evangile one of the key sites of the Grand Paris project. Attractive activities such as a climbing wall, paddle, squash and badminton will be organised in the indoor sports facility by UCPA (the French outdoor sports federation), which is highly experienced in sports instruction. The federation will also run participatory events and will help develop social relations within the neighbourhood, with events held in public areas that will make the Îlot Fertile a place where young people can enjoy themselves and all learn to get along together.

Create a powerhouse of social interplay and innovation with the Dédale agency's Living Lab, which will devise sustainable development and urban ecology projects bringing together researchers, students, businesses and local residents. The Living Lab will organise events in the neighbourhood, in partnership with WWF and all the players present on the site. It will work closely with a network of local Parisian associations, such as the 104 arts centre, the Régie de Quartier du 19ème and Paris & Co.
To make sure that its ambitions are sustained over time, the team of partners has undertaken to ensure that the spirit of these social and environmental innovations is maintained for 10 years.
The works, which will be carried out by Bouygues Bâtiment Ile-de-France, are expected to begin in mid-2018, with handover scheduled for 2021.
Media resources

Download the HD file
[12.38 MB]
Press contacts
Mathieu Carré
+33 (0)1 30 60 66 39
Jessica Swiderski
+33 (0)1 30 60 25 37