The Tanger Med port complex
The Tanger Med port, revitalising the whole of Northern Morocco
Seen as one of the essential hubs of the Mediterranean, Tanger Med ranks as one of the world's best port complexes. Originally opened in 2007 after three years of works performed by Bouygues Travaux Public and Bouygues Bâtiment International, it can berth the world's largest freighters.

Business and trade are booming in Tangiers,. As Morocco's second most important industrial centre after Casablanca, Tangiers's industrial activity is both dynamic and diversified across textile, chemical, mechanical, metallurgical and naval sectors, among others. As a meeting-point for two cultures and two economies, the city now operates a port that is worthy of its trading ambitions.
In 2015, the Tanger Med port complex became one of the leading port hubs in the Mediterranean and in Africa. Between the original site opened in 2007 and its extension in 2015, its total capacity now stands at 8 million containers, 7 million vehicles, 700,000 trucks and 10 million tonnes of oil… practically double the capacity of the original port of Tangiers! 
Despite the economic crisis, it was decided in 2009 to extend the port on the west side of Tangier Med I. The Tangier Mediterranean Special Agency (TMSA) entrusted the consortium of Bouygues Travaux Public (lead company), Bymaro, Saipem, Besix and Somagec with the port extension, which was to be known as Tanger-Med II. Tanger-Med I was a victim of its own success; the area already included two breakwater barriers, a container port and a ferry port. It was therefore important that the port have a place in the new infrastructure that would be the Tanger-Med II port. The "new" port incorporates two deepwater container terminals that provide an additional capacity of 5.2 million TEUs (Twenty-foot Equivalent Units).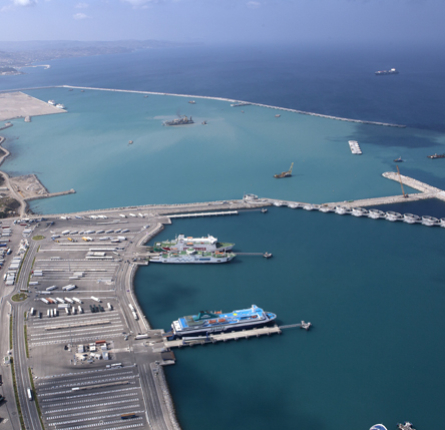 Built in deep water on an artificial breakwater consisting of 23 precast reinforced concrete caissons for the Tanger Med I project and 40 caissons 35 metres high (capable of withstanding a once-in-a-century swell!) for the Tanger Med II project, the site boasts numerous technical innovations. For instance, each caisson is fitted with a polarised-iron band mounted a few centimetres deep which makes it possible to repel ions that cause oxidation and corrosion, helping to make the site more sustainable.