Smart Cities: the time is now!
By 2050, 70% of the world's population will live in urban areas and cities will be responsible for 80% of greenhouse gas emissions. The challenge facing those involved in urban planning today is to rethink our development model to make sure that cities are innovative, sustainable and suited to new ways of living. Bouygues Construction, which is actively pursuing a sustainable construction policy, is taking part in the inaugural Smart Cities symposium, organised by French financial newspaper Les Echos. The event, to be held on July 1, 2015, promises a debate on the fundamental stakes of smart cities.
Bouygues Construction's Director of Innovation and Sustainable Construction, Philippe Van de Maele, will deliver an exclusive insight into the Group's thoughts and projects in relation to these matters (video in French).
A need to imagine the city of tomorrow: from sustainable buildings…
"We took an interest in sustainable construction from the start. The advent of new information technologies has changed people's behaviour and usage practices. If we are to believe Jeremy Rifkin, we are heading towards a collaborative economy, and we have to take that shift into account when designing buildings, using smart technology to promote sustainable cities. […] The building of tomorrow will be different in many respects. We currently have an ongoing research programme, Autonomous Building for Citizens, which really pushes the envelope in terms of ideas for making buildings totally self-sufficient, producing their own energy and water and managing their own waste. […] There are technological difficulties on the way to achieving that goal, but there is also the issue of getting local residents to take ownership of the initiatives. Designing a building that consumes less has huge social and societal implications. Buildings will have to be conceived differently. We are trying to see what resources can be pooled to optimise environmental performance."
Find out more about the ABC concept
… to smart neighbourhoods
"Above all, smart cities are a response to a social challenge. We are doing a lot of work on behaviour and for us the end goal is not just a single building. That's why we are looking at solutions at neighbourhood level. From a technical point of view, such an approach allows us to identify opportunities to share energy sources, car parking facilities and resources such as water. The ecosystem comprises the building and its surroundings, and of all the possible exchanges between buildings with different functions. […] We have to turn that into a thriving community based on a participative model. […] The Smart City is made up of smart neighbourhoods combining different buildings."
Find out more about LinkCity, our sustainable neighbourhoods initiative
Smart cities: an all-encompassing challenge
"We have positioned ourselves in relation to the challenge of urban growth, but we can also work on what already exists. It's harder, because you have to get more contributors involved in the project, which requires more work and greater investment on the ground. […] Smart services will make this kind of development possible in communities forged at neighbourhood level rather than building level. […] Smart cities are a long-term investment: buildings that consume little energy gain in value, while optimising water resources saves money. There are economic stakes, but also societal ones: there is growing enthusiasm for smart cities among the population, who are waiting for investors and companies to get involved. […] We lead the way when it comes to thinking about sustainable neighbourhoods in Switzerland, taking into account energy and water issues, office optimisation, training of residents, etc."
Find out more about our expertise in eco-neighbourhood in Switzerland
Smart Cities: from utopia to reality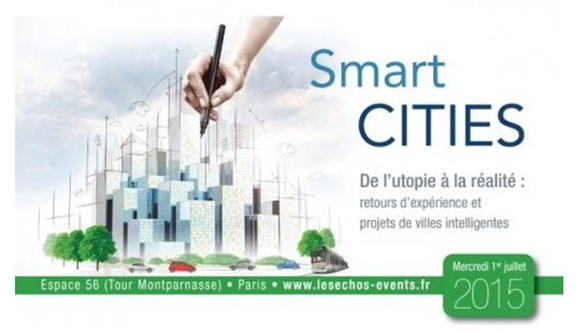 Join Philippe Van de Maele at the inaugural Smart Cities symposium on July 1, 2015 in the Tour Montparnasse, Paris.
He will speak from 10 to 10.45 a.m. as part of a round-table discussion entitled "Smart buildings: how can buildings be integrated to maximise economic, environmental and social performance?".You can follow a live-tweet of the event on our Twitter feed and via the hashtag #smartcities.
Did you say Smart buildings?
To know everything about the buildings that will compose the cities of the future, the stakes of the sector and Bouygues Construction achievements in this field, the round-table discussion about Smart buildings with Philippe Van de Maele participation is now available in podcast.
Press contacts
Mathieu Carré
+33 (0)1 30 60 66 39
Jessica Swiderski
+33 (0)1 30 60 25 37